Manually Entered Results

Open Doubles Net

Initial Seeding

1.	JF Lemieux / Greg Lima
2.	Yves Kreil / Arthur Ledain
3.	Grischa Tellenbach / Lino Landau
4.	Sebastien Maillet / Mouss Kabbal
5.	Karim Daouk / Tammo Rockel
6.	Hakan Hellberg / Vincent Rousseau
7.	Amaya Straeten / Jonas Thull
8.	Yves Mingard / Justin Eichenlaub
9.	Olivier Baillon / Arnaud Saniez
10.	Thomas Sustrac / David Kaufmann

Pool A*
1.	JF Lemieux / Greg Lima
2.	Grischa Tellenbach / Lino Landau
3.	Hakan Hellberg / Vincent Rousseau
4.	Yves Mingard / Justin Eichenlaub
5.	Olivier Baillon / Arnaud Saniez

Pool B*
1.	Yves Kreil / Arthur Ledain
2.	Sebastien Maillet / Mouss Kabbal
3.	Karim Daouk / Tammo Rockel
4.	Amaya Straeten / Jonas Thull
5.	Thomas Sustrac / David Kaufmann

* Please note that we used flip seeding to draw the pools.

Pool A

JF Lemieux / Greg Lima		11	11
Olivier Baillon / Arnaud Saniez	09	01

Grischa Tellenbach / Lino Landau	11	10	11
Yves Mingard / Justin Eichenlaub	04	12	09

Hakan Hellberg / Vincent Rousseau	11	09	11
Olivier Baillon / Arnaud Saniez	04	11	00

JF Lemieux / Greg Lima		11	11
Yves Mingard / Justin Eichenlaub	03	05

Grischa Tellenbach / Lino Landau	11	11
Hakan Hellberg / Vincent Rousseau	08	03

JF Lemieux / Greg Lima		11	11
Hakan Hellberg / Vincent Rousseau	04	06

Grischa Tellenbach / Lino Landau	11	11
Olivier Baillon / Arnaud Saniez	04	01

Hakan Hellberg / Vincent Rousseau	14	11
Yves Mingard / Justin Eichenlaub	12	09

Yves Mingard / Justin Eichenlaub	12	10	11
Olivier Baillon / Arnaud Saniez	10	12	05

JF Lemieux / Greg Lima		09	11	08
Grischa Tellenbach / Lino Landau	11	07	11

Results Pool A
1.	Grischa Tellenbach / Lino Landau	IV (victories)
2.	JF Lemieux / Greg Lima			III
3.	Hakan Hellberg / Vincent Rousseau	II
4.	Yves Mingard / Justin Eichenlaub	I
5.	Olivier Baillon / Arnaud Saniez		0

Pool B

Yves Kreil / Arthur Ledain		11	13
Thomas Sustrac / David Kaufmann	00	11

Sebastien Maillet / Mouss Kabbal	11	11
Amaya Straeten / Jonas Thull	05	06

Karim Daouk / Tammo Rockel	11	11
Thomas Sustrac / David Kaufmann	01	02

Yves Kreil / Arthur Ledain		11	10	11
Amaya Straeten / Jonas Thull	06	12	03

Sebastien Maillet / Mouss Kabbal	11	11
Karim Daouk / Tammo Rockel	05	06

Yves Kreil / Arthur Ledain		11	09	06
Karim Daouk / Tammo Rockel	03	11	11

Sebastien Maillet / Mouss Kabbal	11	11
Thomas Sustrac / David Kaufmann	00	07

Karim Daouk / Tammo Rockel	11	11
Amaya Straeten / Jonas Thull	02	04

Amaya Straeten / Jonas Thull	11	11
Thomas Sustrac / David Kaufmann	02	06

Yves Kreil / Arthur Ledain		11	11
Sebastien Maillet / Mouss Kabbal	05	01

Results Pool B
1.	Sebastien Maillet / Mouss Kabbal	III*
2.	Karim Daouk / Tammo Rockel		III*
3.	Yves Kreil / Arthur Ledain		III*
4.	Amaya Straeten / Jonas Thull		I
5.	Thomas Sustrac / David Kaufmann	O

* three-way tie (rule 304.03. Pool Format ? section D. Subsequent Round(s): 
Point 3)

?In the rare event of a 3-way tie in the pool with the head-to-head match 
results forming a circle, the following criteria shall be used (in order) to 
determine the highest-placed player/team, with the next highest-placed 
player/team being determined by the head-to-head match between the remaining 
two:
a) Highest ratio of total games won to total games lost in all games played in 
pool, including those played against the player/team not in the 3-way tie;
b) Lowest number of total points allowed in all games won against the other two 
teams in the three-way tie;
c) The odd person out in a three way fist-to-palm tie-breaking ritual, 
officiated by the tournament director.?

1. Highest ratio of total games won to total games lost in all games played in 
pool, including those played against the player/team not in the 3-way tie:

Sebastien Maillet / Mouss Kabbal	(6/2=3) highest ratio
Yves Kreil / Arthur Ledain		(7/3=2.33)
Karim Daouk / Tammo Rockel	(6/3=2)
-> Sebastien Maillet / Mouss Kabbal take first place.

2. The next highest-placed player/team being determined by the head-to-head 
match between the remaining two:
-> Karim Daouk / Tammo Rockel won against Yves Kreil / Arthur Ledain. Therefore 
Karim Daouk / Tammo Rockel take the second place.

Consolation rounds:

Yves Mingard / Justin Eichenlaub	15
Thomas Sustrac / David Kaufmann	11

Amaya Straeten / Jonas Thull	15
Olivier Baillon / Arnaud Saniez	xx

Yves Kreil / Arthur Ledain		15
Yves Mingard / Justin Eichenlaub	10

Hakan Hellberg / Vincent Rousseau	13
Amaya Straeten / Jonas Thull	15

Yves Kreil / Arthur Ledain		11
Amaya Straeten / Jonas Thull	15

Hakan Hellberg / Vincent Rousseau	15
Yves Mingard / Justin Eichenlaub	xx

Olivier Baillon / Arnaud Saniez	15
Thomas Sustrac / David Kaufmann	xx

Semi-finals:

JF Lemieux / Greg Lima		15	15
Sebastien Maillet / Mouss Kabbal	04	11

Grischa Tellenbach / Lino Landau	15	15
Karim Daouk / Tammo Rockel	11	11

3rd Place:

Sebastien Maillet / Mouss Kabbal	08	06
Karim Daouk / Tammo Rockel	11	11

Finals:

JF Lemieux / Greg Lima		15	15
Grischa Tellenbach / Lino Landau	10	11

Final results

1.	JF Lemieux / Greg Lima (=)
2.	Grischa Tellenbach / Lino Landau (+1)
3.	Karim Daouk / Tammo Rockel (+2)
4.	Sebastien Maillet / Mouss Kabbal (=)
5.	Amaya Straeten / Jonas Thull (+2)
6.	Yves Kreil / Arthur Ledain (-4)
7.	Hakan Hellberg / Vincent Rousseau (-1)
8.	Yves Mingard / Justin Eichenlaub (=)
9.	Olivier Baillon / Arnaud Saniez (=)
10.	Thomas Sustrac / David Kaufmann (=)


Open Singles Net

Initial Seeding

1.	Greg Lima
2.	Yves Kreil
3.	Lino Landau
4.	Arthur Ledain
5.	Karim Daouk
6.	Grischa Tellenbach
7.	Amaya Straeten
8.	Tammo Rockel
9.	Hakan Hellberg
10.	Sebastien Maillet
11.	Mouss Kabbal
12.	Vincent Rousseau
13.	Justin Eichenlaub
14.	Yves Mingard
15.	Thomas Sustrac
16.	Jonas Thull
17.	Lisa Amengual

Pool A
Greg Lima
Hakan Hellberg
Justin Eichenlaub

Greg Lima		15	15
Justin Eichenlaub	07	12

Hakan Hellberg	05	15	17
Justin Eichenlaub	15	12	15

Greg Lima		15	15
Hakan Hellberg	08	04

Results Pool A
1.	Greg Lima		II (victories)
2.	Hakan Hellberg	I
3.	Justin Eichenlaub	0


Pool B
Yves Kreil
Sebastien Maillet
Vincent Rousseau

Yves Kreil		15	15
Vincent Rousseau	07	13

Sebastien Maillet	15	14	15
Vincent Rousseau	13	16	07

Yves Kreil		21	13	15
Sebastien Maillet	19	15	12

Results Pool B
1.	Yves Kreil			II
2.	Sebastien Maillet		I
3.	Vincent Rousseau		0


Pool C
Lino Landau
Tammo Rockel
Mouss Kabbal

Lino Landau		15	15
Mouss Kabbal		12	13

Tammo Rockel	15	06	11
Mouss Kabbal		12	15	15

Lino Landau		15	13	15
Tammo Rockel	11	15	09

Results Pool C
1.	Lino Landau	II
2.	Mouss Kabbal	I * UP-SET
3.	Tammo Rockel	0


Pool D
Arthur Ledain
Amaya Straeten
Yves Mingard
Lisa Amengual

Arthur Ledain		15	15
Lisa Amengual	04	12

Amaya Straeten	16	11	15
Yves Mingard		14	15	10

Arthur Ledain		15	15
Yves Mingard		03	05

Amaya Straeten	15	15
Lisa Amengual	04	05

Yves Mingard		15	15
Lisa Amengual	10	11

Arthur Ledain		15	15
Amaya Straeten	09	06

Results Pool D
1.	Arthur Ledain	III
2.	Amaya Straeten	II
3.	Yves Mingard	I
4.	Lisa Amengual	0


Pool E
Karim Daouk
Grischa Tellenbach
Thomas Sustrac
Jonas Thull

Karim Daouk	15	15
Jonas Thull	09	11

Grischa Tellenbach	15	15
Thomas Sustrac	10	10

Karim Daouk		15	15
Thomas Sustrac	03	07

Grischa Tellenbach	15	15
Jonas Thull		08	09

Thomas Sustrac	15	15
Jonas Thull		07	08

Karim Daouk		15	15
Grischa Tellenbach	13	07

Results Pool E
Karim Daouk		III
Grischa Tellenbach	II
Thomas Sustrac	I
Jonas Thull		0


Consolation Rounds

Tammo Rockel
Bye

Thomas Sustrac	16
Yves Mingard		14

Vincent Rousseau	15
Lisa Amengual	xx

Justin Eichenlaub	15
Jonas Thull		xx

Tammo Rockel	15
Thomas Sustrac	10

Vincent Rousseau	xx
Justin Eichenlaub	15

Tammo Rockel	15
Justin Eichenlaub	xx

Bye
Yves Mingard

Jonas Thull		15
Lisa Amengual	xx

Yves Mingard		15
Jonas Thull		xx


Round of 16

Greg Lima
Bye

Hakan Hellberg	15	10
Sebastien Maillet	17	15

Arthur Ledain
Bye

Karim Daouk
Bye

Yves Kreil
Bye

Amaya Straeten	15	11	15
Mouss Kabbal		11	15	07

Lino Landau
Bye

Grischa Tellenbach
Bye

Quarter-finals

Greg Lima		
Sebastien Maillet	

Arthur Ledain		06	07
Karim Daouk		15	15

Yves Kreil		15	15
Amaya Straeten	08	10

Lino Landau		15	15
Grischa Tellenbach	08	11

Semi-finals

Greg Lima		17	18
Karim Daouk		21	21

Yves Kreil		21	21
Lino Landau		12	17

3rd Place

Greg Lima		
Lino Landau		

Finals

Karim Daouk		21	16	21
Yves Kreil		18	21	16


Complete Results

1.	Karim Daouk (+4)
2.	Yves Kreil (=)
3.	Greg Lima (-2)
4.	Lino Landau (-1)
5.	Arthur Ledain (-1)
6.	Amaya Straeten (+2)
7.	Sebastien Maillet (+4)
8.	Grischa Tellenbach (-2)
9.	Hakan Hellberg (=)
10.	Mouss Kabbal (+1)
11.	Tammo Rockel (-3)
12.	Justin Eichenlaub (+1)
13.	Vincent Rousseau (-1)
14.	Thomas Sustrac (+1)
15.	Yves Mingard (-1)
16.	Jonas Thull (=)
17.	Lisa Amengual (=)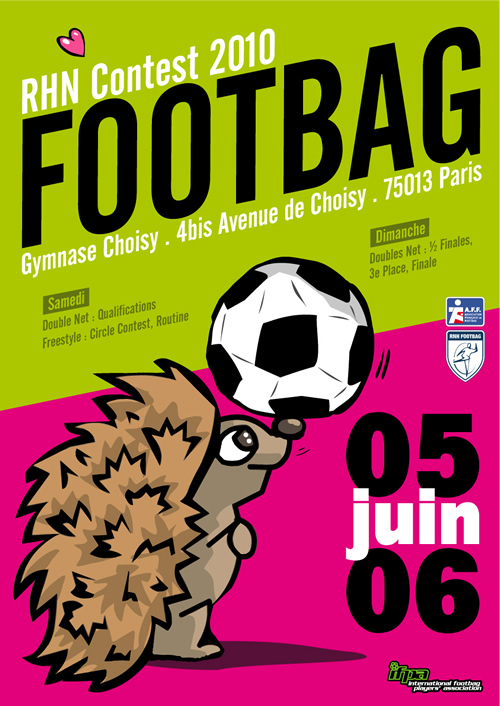 Confirmed Net teams:
1. Seb Maillet/Mouss Kabbal
2. Karim Daouk/Tammo Rockel
3. Lino Landau/Grischa Tellenbach
4. Olive Baillon/Arnaud "Moute" Saniez
5. Arthur Ledain/Yves Kreil
6. Amaya Straeten/Jonas Thull
7. Thomas Sustrac/David Kaufmann
8. Hakan Hellberg/Vincent Rousseau
9. JF Lemieux/Greg Lima
10. Yves Mingard/Sebastien Lefay
RNH Contest 2010 Facebook page
RNH Contest 2010 French Footbag Forum page
Schedule
Saturday Doubles Net
Sunday Singles Net
Monday Freestyle Night
Event Details:

Dear footbag players,

Please read carefully following information regarding the RNH Contest 2010.

The registration fee is 10.00 Euros (which includes access to the tournament, 
food and beverages)

Player registration will be open on Saturday 5th June from 11h00 to 11h30 at 
the gym Choisy.

Saturday:
We will play ALL doubles net matches including finals and all consolation 
rounds.
We will use the standard side-out scoring system.
Indicative schedule:
12h00 Pool play (round robin)
17h00 Semi-finals 1
18h00 Semi-finals 2
19h00 3rd place
20h00 Finals

Sunday:
We will play ALL singles net matches including finals and all consolation 
rounds.
We will use the rally scoring system !
All singles players are requested to sign-in at the gym BEFORE 10h00.
Indicative schedule:
10h30 Pool play (round robin)
13h30 Quater-finals
14h30 Semi-finals
15h30 3rd place
16h30 Finals

Please be reminded that on Sunday at 17h59 everybody has to be outside the gym 
with all their stuff !

Matching outfits: 
Doubles net teams are requested to wear matching outfits. Each team should at 
least have one matching outfit. Don?t try to tell me that with all your 
tournament t-shirts you don?t have at least one t-shirt in common with your 
team mate !

Venue:
Gymnase Choisy
4bis Avenue de Choisy
75013 Paris, France

Created Wednesday, April 7th, 2010, 02:18am (PDT); last
update
Tuesday, November 8th, 2011, 01:37pm (PST).